Wire EDM: Euregionally established wire EDM specialist for quick delivery in NE-BE-DU!
For wire EDM, the attractiveness of the process is in the freedom of design.
Applying 'wire EDM ' spark erosion – all kinds of shapes can be made out of different, conductive metals.
Thanks to the wire EDM technique, small cutting widths are possible. In addition to small cutting widths, EDM – spark erosion allows for the production of complex shapes in 2½-D as well as conical corners. 
Wire EDM specialists: precision work
During the wire EDM process a wire electrode is used that runs continuously off a roll. The wire electrode is, as such, being renewed continuously during CNC-spark erosion process. This will not cause any wear on the electrode. The technique ensures extreme accuracy of the product to be manufactured. As a result, no deformation will take place during the production. This makes the accuracy for wire EDM extremely great: machining can be accurate up to half a micrometre. The wire EDM machine can even apply machining at tenths of micrometres. The minimal roughness of the surface is Ra 0.1μm.
5-axle simultaneous wire EDM
In 2000, the Nefratech EDM-Center, as a leader within the area of expertise EDM – wire EDM, already purchased 5-axle FANUC ROBOCUT Alfa – 1iA-5 Wire EDM equipment. In the course of 20 years, we are entirely 'into' manufacturing a 2.5D-product.
The product is being worked on at five sides simultaneously in one single clamping. All axles thus manipulate the product at the same time! The savings in time that can be realised with 5-axle simultaneous EDM machining, is a great advantage. No valuable time is wasted on the change-over time per operation.
The maximum size of the workpiece that can be handled by this machine is: 1,000 mm – 730 mm – 300 mm. The maximum workpiece scope is: 520 mm – 370 mm – 300 mm. This wire EDM equipment can handle a table load of one thousand kilos.
8-axle (prepared) wire EDM
Our Sodick AG600L can handle large workpieces with a table load of 3,000 kilos. Since 2019, our 'super machine', being able to handle a maximum workpiece size of 1,250 mm x 1,000 mm, with a reach of 800 x 600 x 800 mm in height, is based in Weert. This is, mind you, the only machine of its kind in Europa! The surface roughness to be achieved with this Sodick-winner is 0.3 μRa. And yes, we are proud of this machine! Because it also distinguishes us from our peer-companies.
ification requirements for wire EDM technology (e.g. GRADE-2)
Nefratech EDM-center meticulously maintains the machine park. This is very important to the preservation of a constant accuracy during the cutting process. That is why checks on the basic functions are performed on a daily basis. As such, Nefratech EDM-Center also complies with the general purification requirements. We already carry out assignments for various nationwide customer, in accordance with the specific purification requirements, such as GRADE-2. Should you have such a specific assignment, then Nefratech EDM-Center is the best place to go! Our company is ready for it. So, if you have a specific assignment, we will be happy to take on the challenge, together with you!
Here, you can find information about PURIFICATION REQUIREMENTS, such as GRADE-2 Cleanliness
Ask for our - free of obligation - advice.
You will get a response within 24 hours.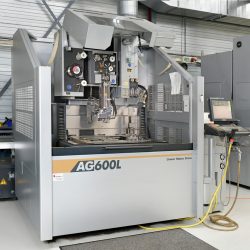 The possibilities of wire EDM technology
CNC-wire EDM: from 2 to 4-axle, 5-axle simultaneously to 8-axle (prepared).
Axle-relocation SODICK ALC800GH: 800 x 600 x 800 mm.
Maximum workpiece size: 1,200 x 700 x 800 mm.
File formats to be scanned: DXF, IGES, DWG, STEP, VDA\CAM.
Wire diameter: 0.05 to 0.3 mm.
Roughness tot Ra 0.1 μm.
Which materials are suitable for wire EDM/EDM spark erosion?
All conductive materials of different hardnesses can be processed by means of wire EDM technology. Thanks to the limited loss of material, wire EDM is also very suitable for the manipulation of exotic materials. An overview:
All types of steel (soft or solidified).
All Inox-types. Especially silicon carbide and PKD.
Aluminium and titanium.
Copper, bronze, brass.
Hard metals, tungsten carbide, graphite and silver.
Exotic materials: titanium, molybdenum.
Editing of spark products
In addition to EDM wire, Nefratech EDM-Center also offers EDM Machining and CNC-EDM drilling. CNC-milling and editing of wire EDM and EDM-machining products is implemented externally, by partners of Nefratech EDM-Center. The cooperation with these parties dates back many years. On behalf of you, Nefratech EDM-Center will coordinate the editing process, so you will always be dealing with one contact. As soon as the product is back in our workshop, we perform a re-check before handing it over to you.
After the production, the workpieces can be edited by use of the following techniques:
Electrolytical polishing
Anodising of aluminium
Gold plating
View the machine park of the fastest supplier within NE-BE-DU!