The team of Nefratech EDM-Center
The Nefratech team likes a firm, sparking challenge. As professional fanatics we are very keen to face them! It doesn't matter whether it is so-called 'impossible' or demanding assignments, or that it is very meticulous work, or even very strenuous or heavy …
Just challenge these sturdy 'Nefratechers' if you like. We guarantee that their passion for the trade will pass over to you, like a spark!
If you are working with Nefratech EDM-Center – or are going to – you will always speak to our team members straight away. Because that's what we prefer: short lines and clear communication without unnecessary fringes. That is pleasant for you as well as for us. So, if you have a question, you will never have to wait for an answer long. Also quite convenient! During the production, our team members act as flexibly as possible and think along with you actively as well as pro-actively. Simply because they picture the same end goal: a beautiful product.
We are talking about the 'team of Nefratech' here, but who are those men working in the production hall?! Nefratech EDM-Center introduces this ultimate, sturdy team to you…
Frank, as director, is the basis of Nefratech EDM-Center. He is married to Tanya has a son. More than three decades ago, Frank started as an entrepreneur with a single wire EDM machine. In the years that followed, he hired professionals who are just as proud of the company as he is! Colleagues say Franks' best quality is his modesty; he prefers to just stand behind the machine himself. As a professional, Frank does want to be the first to follow the latest developments. He is happy to make his company and knowledge available to trainees.
In his spare time, Frank likes to be a 'free' boy and he experiences that feeling on the motorcycle. After a ride, he likes to have a beer with his comrades and play darts in his favorite pub. Just like he did 25 years ago: modestly. Just a guy who enjoys his job, his team, his home plus a beer (and his bike).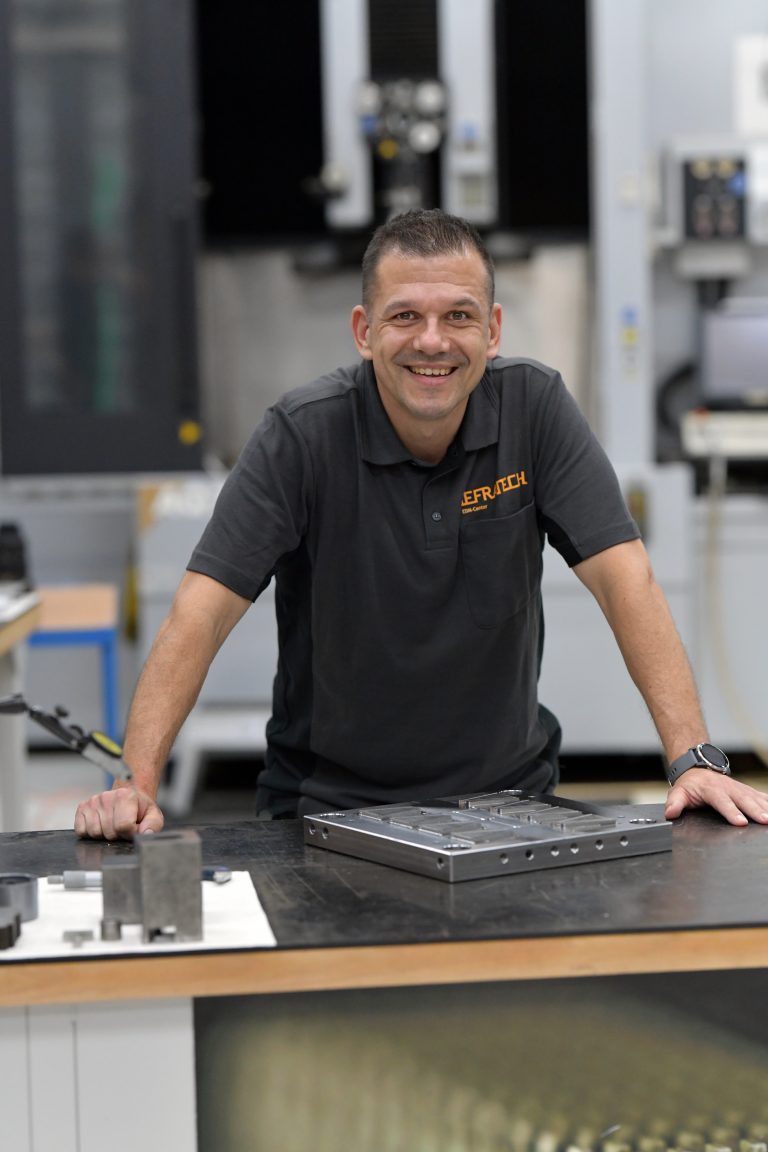 This originally 'Brabant boy' started his career as a CNC miller. Since 2018, this active forty-something is in charge of the daily management of the Nefratech team. As a general manager, he experiences a perfect mix of both worlds: that of coaching leadership and also 'being nice behind the machine'. Sven is an organizer and practical person but is also a progressive craftsman with a clear goal on the horizon. That dot is the growth of Nefratech as a high-tech EDM center!
Sven's motto is 'There are no problems, only challenges!'. He bites into a challenge like a bull terrier. Thanks to this characteristic, customers experience him as a valuable concept developer and he is the source of information for customers and colleagues. In his spare time, Sven is his girlfriend and animals are the apples of his eye.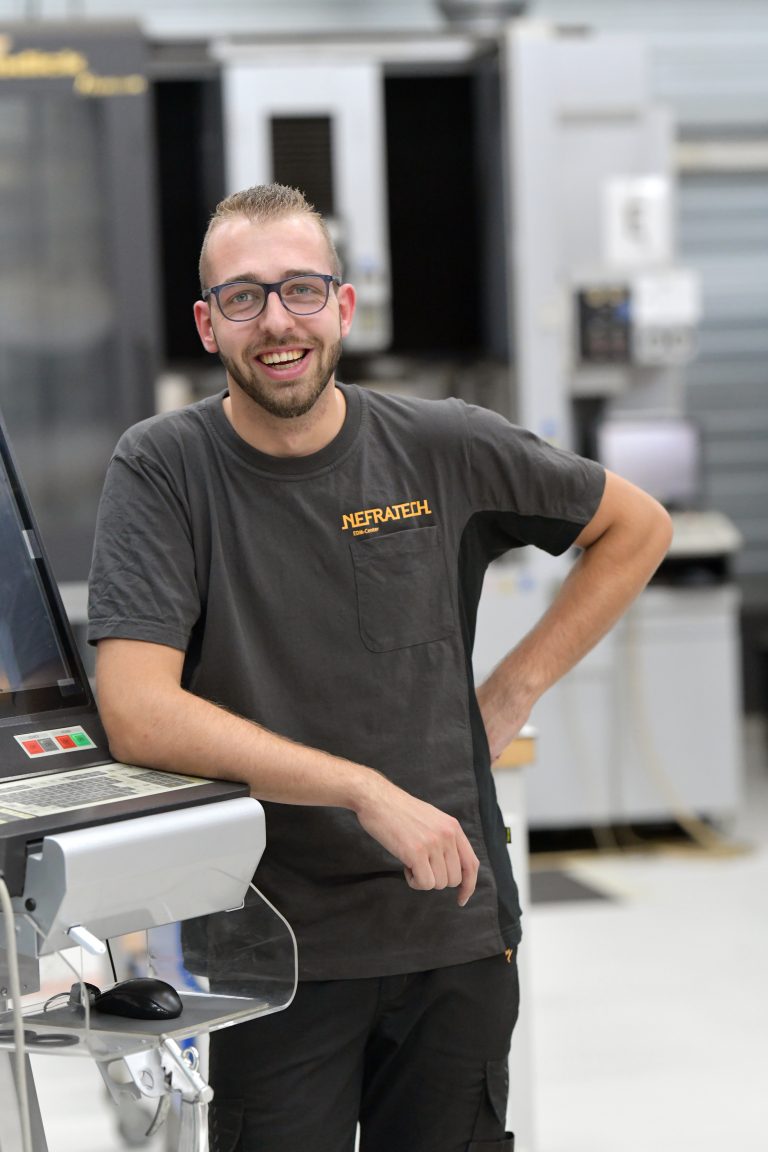 Although Wouter is the youngest member of the Nefratech team, he has made most of the figurative meters on the machines. He has been working at 'the firm' since 2013. Wouter once came to visit the workshop with his father as a 13-year-old boy and was so impressed that he opted for vocational training at BuSo Sint-Jansberg Maaseik (B). With his diploma in his pocket, Wouter knocked on the door of the workshop again and he stayed.
Wouter can be used all-round. His colleagues agree that precision work to the millimeter is a good fit for Wouter. Thanks to his insight and knowledge, eye for detail, and lots of patience, Wouter turns the smallest workpieces into real millimeter miracles. No wonder this is 'his thing', because, with his calm character, Wouter radiates peace and quiet in this team of tough men. His calm character is reflected in his great hobby: 'vusjsche' (Dutch for fishing).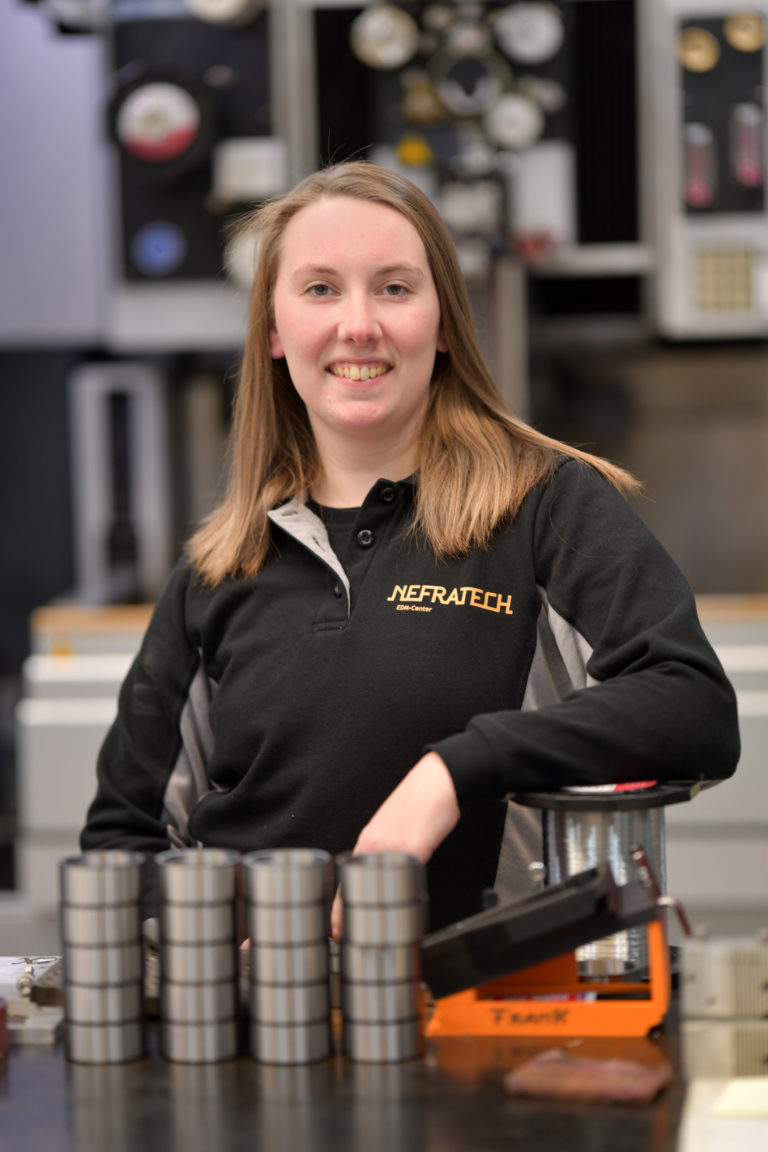 Wire sparklers are already scarce, but female wire sparklers are even scarcer! In 2021, the Nefratech team was expanded with Michelle. At 26, Michelle definitely stands her ground when it comes to EDM wire cutting. Just like with darts. She is not originally from technology. Through an administrative job, she moved on to wire EDM technology due to understaffing at that employer. And that led to a professional turnaround! She has now built up more than four years of experience and she wants to gain a lot of experience at Nefratech EDM Center.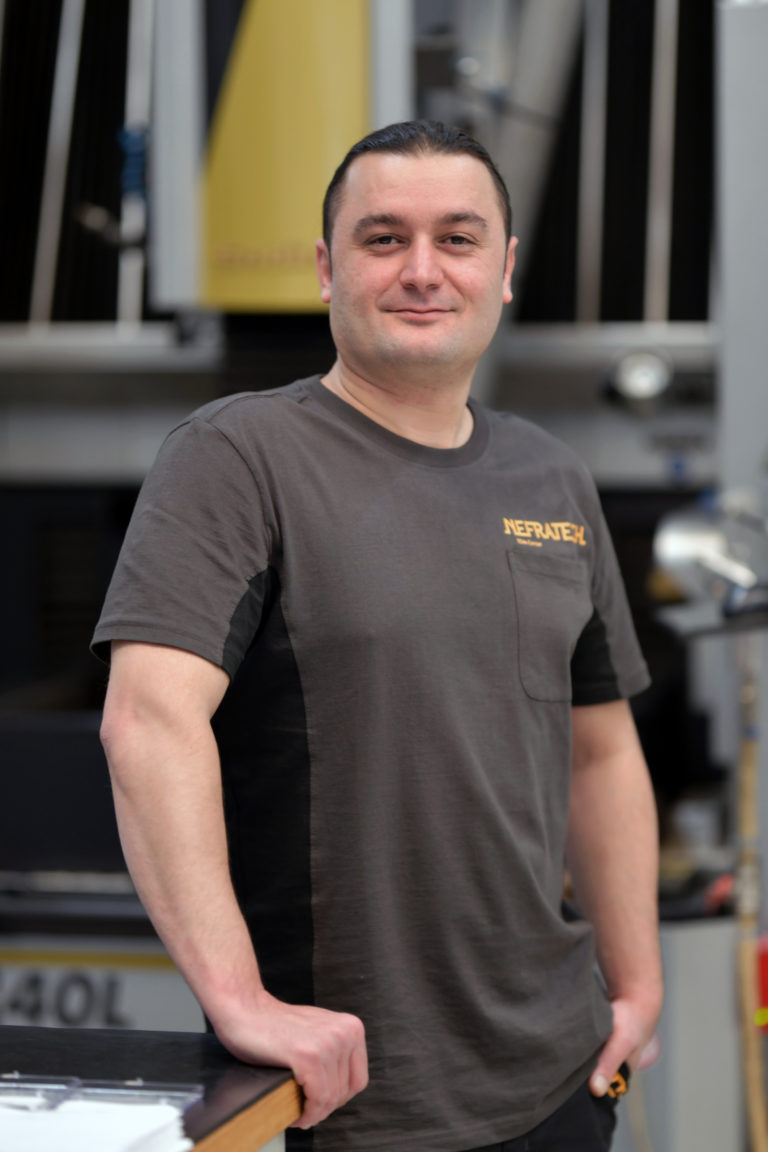 Ehsan is a great example of successful integration: a few years ago he fled from his native Iran and found a new 'home' in Limburg. This 35-year-old topper now speaks the Dutch language fluently and many can take an example from his Weerter dialect. Ehsan is trained as a welding engineer. Due to his employment at Nefratech EDM Center, he is back in the right place again: in metalworking technology! Ehsan works on the same project every day for one and the same customer, arranging everything from purchasing to checking and delivery.
John has been involved with the company since the start of Nefratech EDM-Center. As a numbers master and pragmatist, he plays a major role in the development of Nefratech into a Euregional high-tech company.
John has been sharing joys and sorrows with his Anne for 20 years. Together they have three blooming sons. He is just as proud of 'his' city Weert as he is of his family. John is a man involved in the well-being and development of Weert and the social life of this 600-year-old city. He was also a councilor for several years. Now he is mainly concerned with Nefratech EDM-Center and his catering business 'De Soos' in the Weerter city center. Or did three men ever become a 'Nefratecher'? They sometimes come and have a look and who knows, just like Wouter, they will also come to 'have a look' again with a technical diploma in their pocket.
Nefratech EDM-Center is a recognised training company for different technical educations in the Netherlands and Belgium, such as the Technical University in Eindhoven, Gilde Educations and Summa College Eindhoven.