Vacancies EDM wire technicians
Vacancies EDM wire technicians M/F: are you our new colleague?
We have multiple vacancies for EDM wire technicians! Are you an EDM technician or would you like to be trained to become one? Then do not hesitate to contact us yourself!
We – 'the guys' of Nefratech EDM-Center – are a close-knit team of six professionals. Together, we put our shoulders on the wheel every day on the most challenging projects in EDM machining. Our machine park consists of a large number of multi-axis EDM-wire cut machines such as a 5-axis simultaneous and an 8-axis (prepared) EDM-wire cut machine.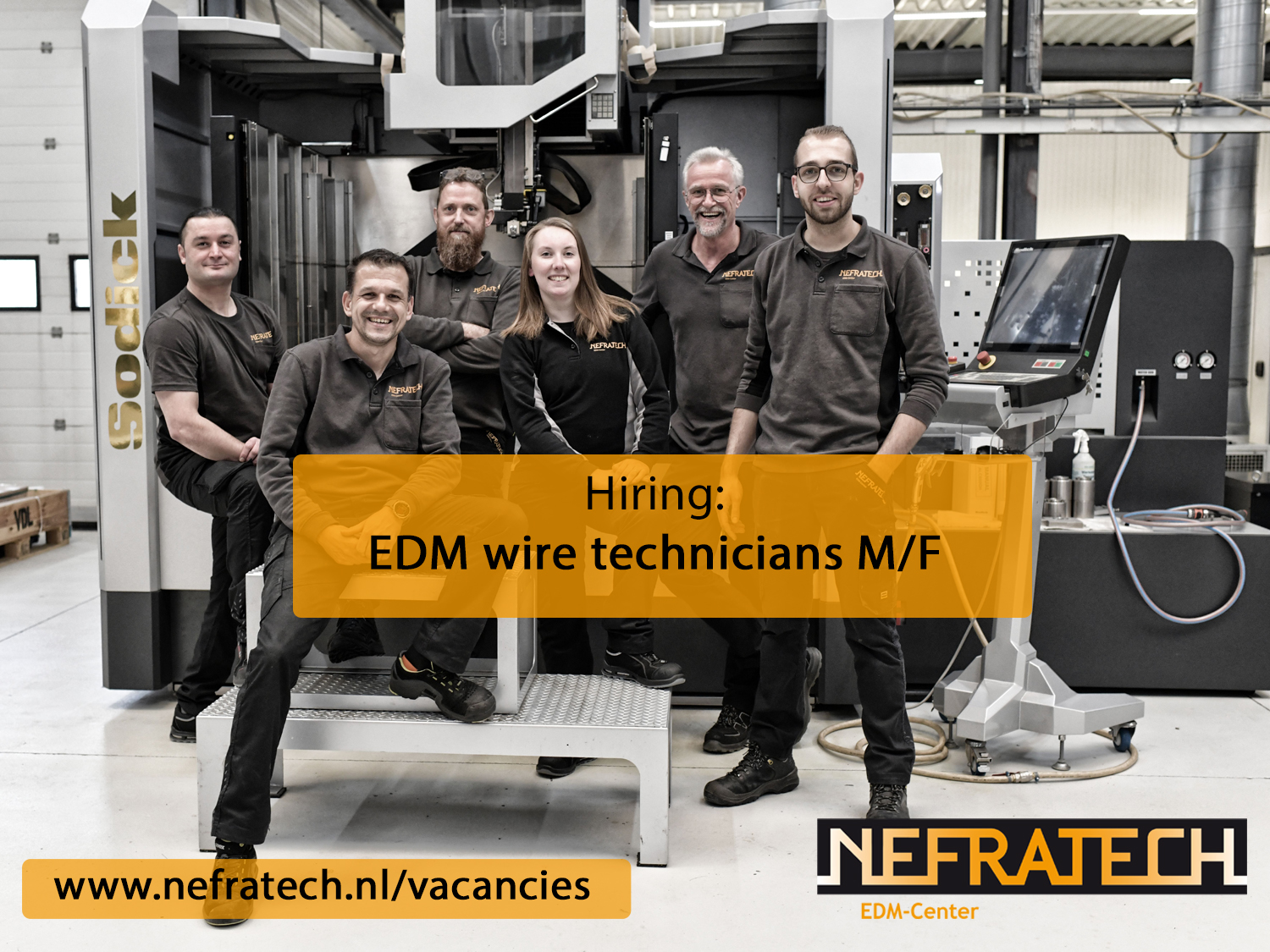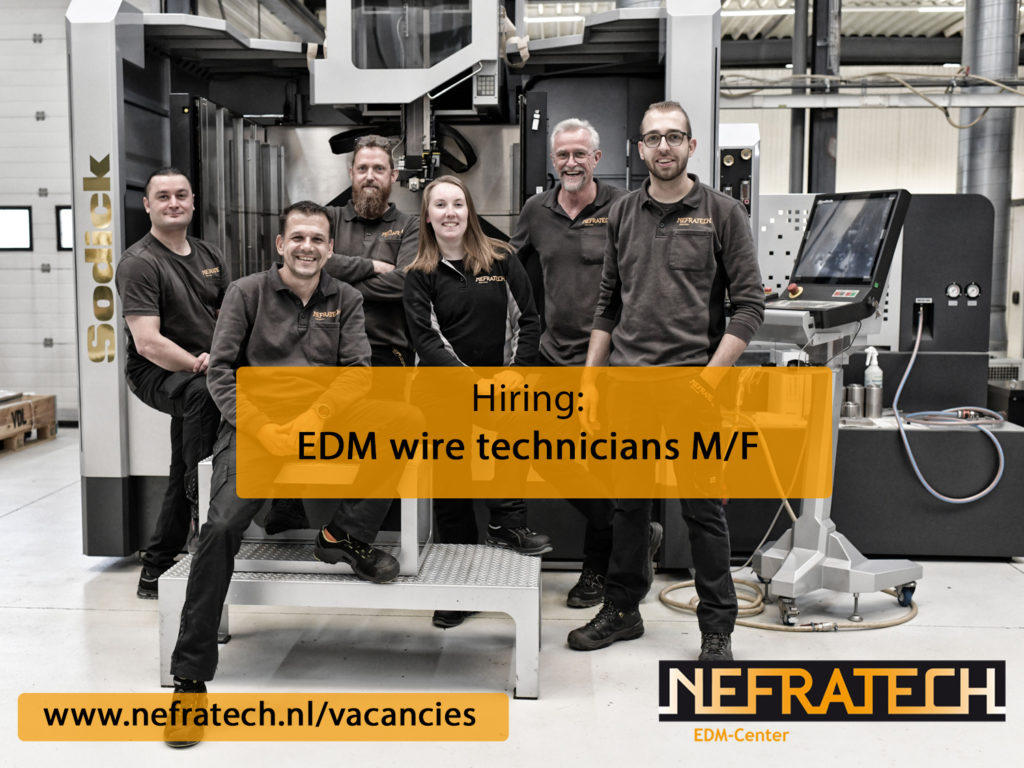 Vacancies for EDM wire technicians: we are hiring new collegues
Nefratech EDM-Center is based in the south of the Netherlands. We operate since 1998. Our company is specialized in wire EDM technology. We supply products as semi-finished products to various industries: semi-con, medical, high-tech, and food industries. Given the diversity of products, no two days are the same at our site.
We distinguish ourselves through our short lines of communication. Internally, but also externally: you have contact with our customers yourself during the production process, which you carry out independently. Often, because of our expertise, clients invite us to think along at the start of a product development project, where we use our knowledge and insight to translate the client's request into a concrete product. This offers you an extra challenge that makes working at Nefratech EDM-Center even more interesting.
Our machine park consists of state-off-the-art EDM wire-cutting machines such as the SODICK ALC800GH with which we can machine products up to 3 tonnes.
As Nefratech EDM-Center is growing rapidly, we are constantly on the lookout for wire-cutting engineers with power, insight, humor, perseverance, and the desire to develop with our company!
In this job, you will operate EDM machines, equipped with different tools. You will work with metals such as steel, bronze, copper, brass, stainless steel, and aluminum. It is a versatile profession because it combines several disciplines. Wire EDM machining requires knowledge of CNC programming. You program the EDM machines all by yourself. During and after production, you carry out the product checks yourself in order to hand over an error-free product to the client.
The orders we carry out involve single pieces and smaller or large series. But we also produce very large and heavy semi-finished products of up to 3,000 kilos The precision in wire cutting is extremely. So there is sufficient diversity and challenge at Nefratech EDM-Center!
What do we expect from our new EDM technician?
You have relevant work experience in engineering or you are eager to learn our craft (experience with CNC / CNC milling is a requirement).
In this position, you can read technical plans.
You have a working and thinking level at MBO level.
We require you to be very accurate.
It will be an advantage if you have any programming/CAD experience such as: Esprit, Pc Fapt, and/or fusion 360.
You have a sense of responsibility and ample problem-solving abilities.
Your work as an EDM technician
Work preparation: thorough preparation is the basis of a successful end result.
Placing the workpieces in the EDM machines and setting them up.
You program the machines independently.
You operate various multi-axis wire EDMs and EDM machines.
You measure products in our measuring room.
You take care of the quality control based on the specifications.
A full-time job (40 hours per week).
Part-time work is also a possibility.
No shift work.
Good fringe benefits.
A pleasant working environment where you are welcome every day.
A tough team of colleagues you can always count on.
The salary is in accordance with the collective labour agreement (between € 2,600-€ 3,600) and depends on your work experience.
Regular social drinks or dinner with your colleagues!
Are you looking forward to a very varied job at our EDM centre?


Would you like to contribute to the development of Nefratech EDM-Center to a higher level? Then we are looking for you!
Send your application letter and CV to s.stoffelen@nefratech.nl and you will hear from us soon!
Share this vacancy for an EDM wire technician:
Due to our growth, we always have new vacancies and so we are constantly looking for driven professionals. We offer both full-time and part-time work opportunities.
Do you have experience as a CNC turner / CNC miller but have not yet worked as an EDM professional? Then we also invite you to apply!
Our team will train you to become the best in the business!
Read this vacancy also on INDEED.
Are you experienced in CNC milling / CNC turning?
Or are you starting out in EDM machining?
Then we would also like to invite you to submit an open application: we would like to receive your cover letter and CV addressed to Sven Stoffelen, General Manager. Please send your letter by email to s.stoffelen@nefratech.nl.
What you definitely need to bring is:
Passion for technology
Every day a good mood
A good chat
The will to learn
Always in the mood for coffee during work
Or a beer after work
An orderly attitude
And a willingness to help your colleagues with everything
Do you meet these requirements? Then respond immediately.
Do you want to become an EDM wire technician?
An EDM professional operates a computer-controlled (CNC) machine (the EDM machine) using electrical voltage combined with high temperature. The process of operations being performed on conductive metals is called spark erosion. At Nefratech EDM-Center, we have different types of EDM machines and a zinc EDM machines, all of which you will (learn to) operate.
The profession of wire EDM technician requires knowledge and insight: if you are 'new' to this field, your colleagues will be happy to teach you everything they themselves have learned in practice.