About Nefratech EDM-Center
Within the Euregion, Nefratech EDM-Center is leading in the area of EDM. Frank Lenaers is the founder of this progressive enterprise. Together with his team, Frank strives to develop the company as a valued sparring partner. And meanwhile, to several international companies, they have become just that!
Thanks to annual new assets, the Nefratech EDM-center is up-to-date for the implementation of complex and accurate fine mechanical processing.
In terms of production, Nefratech EDM-Center manufactures workpieces up to 2½ dimensional workpieces of all current conductive metals. Workpieces vary from a few millimetres and grammes up to large dimensions weighing several tonnes.
Ever since 1998, Nefratech EDM-center has been involved in the area of EDM. Both in terms of wire EDM and EDM machining, the company, as well as the team, have strongly professionalised. This EDM-center stands out from peer-businesses by fast deliveries, actively thinking along and the accuracy, in addition to competitive rates.
Due to this, the enterprise quickly grew from a few machines to a complete machine park. This enterprise from Weert was one of the first to offer a 5-axle simultaneous wire EDM. Recently, in Weert also the first Sodick ALC800GH premium linear controlled wire eroding machine was the first to be installed in the Benelux.
Wire EDM and EDM machining: we are sparking!
Nefratech EDM-Center turns every workpiece, from very simple up to very complex, into a success. Clients confirm our added value and appreciate it if we join them at the table from the start, in case of complicated or difficult productions.
This thinking along – even before there is a spark in sight – time and time again proves valuable.
For the production of a workpiece, determining the processing sequence is crucial. That is the reason why we would like to think along during the product development.
As such, we can prevent longer) production times for you, or costly, disappointing results. Customers value our efforts during these all important first development phases. As it is, they benefit from a good result, thanks to our collaboration. Together with you, we want to make an effort in realising a prefect and accurate end product.
Due to the knowledge and expertise of Nefratech EDM-center, even peers businesses make frequent use of our professional knowledge. Of course, that grows our ego (a lot)!
"The 'Nefratechers' like sparking challenges. As trade fanatics, this arouses them! It doesn't matter whether it concerns so-called 'impossible' or demanding assignments. Challenge them and they will surely transfer the 'spark' to you!"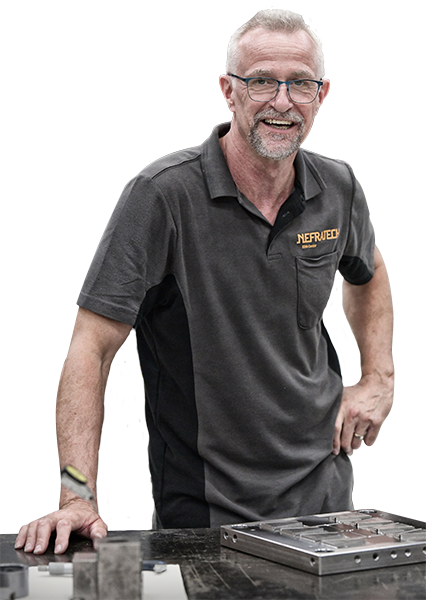 As an EDM-Center, Nefratech EDM-Center keeps being curious about the latest techniques of the CNC-EDM. And we want to be ahead! Ever since 2000, we have been producing 5-axle workpieces by means of wire EDM and since 2019 we have been able to handle workpieces up to three tonnes!
We want to challenge the machine park's capabilities optimally!
All 'Nefratechers' together can dispose of a huge amount of expertise and experience. So, feel free to challenge them, requiring the utmost of their knowledge. They will find a solution for you! View who are in our team and get to know them.
Nefratech EDM-Center produces:
Die cutter
Clamping jig
Injection mould
Punching machines/punching blades
Spline-toothing
Gear wheels
2.5D-moulds
Cutting tools
Stamps
Components for the medical industry
Components for aviation and aerospace
Components for defence
Shaping tools
Metal components
Prototypes
Production from one piece
CAM-discs and curves
Measuring equipment
Extrusion moulds
Curve following and shaping tools
Service provision Nefratech EDM-Center
In-house we execute the following work activities:
On behalf of the client, we provide the following services that take place externally at reliable partners: